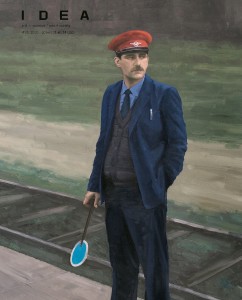 IDEA #35 / www.idea.ro
**
*arhiva *
Trecutul scopic si etica privirii. O pledoarie pentru studiul istoric al
perceptiei oculare
THE SCOPIC PAST AND THE ETHICS OF THE GAZE: A PLEA FOR THE HISTORICAL STUDY
OF OCULAR PERCEPTION
Ivan Illich
De veghe asupra ochiului în epoca spectacolului
GUARDING THE EYE IN THE AGE OF SHOW
Ivan Illich
Difuzorul pe clopotnita si minaret
THE LOUDSPEAKER ON THE TOWER: BELFRY AND MINARET
Ivan Illich
* *
*galerie *
Serban Savu: Nu vine niciun tren
NO TRAIN COMING
* *
*scena *
Recuperarea lui Lukács: interventii în arhiva unui filosof marxist
RECLAIMING LUKÁCS: INTERVENTIONS IN THE ARCHIVE OF A MARXIST PHILOSOPHER
Maja & Reuben Fowkes
Pentru o resubiectivare a Estului
FOR A RESUBJECTIFICATION OF THE EAST
Bogdan Ghiu
Munca, memorie si un viitor mai bun. Interviu cu Matei Bejenaru realizat de
WORK, MEMORY AND A BETTER FUTURE. An Interview with Matei Bejenaru by
Raluca Voinea
Peste tejghea
Krisztina Szipôcs
O radiografie a peisajului în care subzistam: Centrul de Introspectie
Vizuala
Interviu cu Anca Benera, Arnold Estefan, Catalin Rulea si Alina Serban
realizat de
X-RAYING THE LANDSCAPE OF OUR SUBZISTENCE: THE CENTER FOR VISUAL
INTROSPECTION
An Interview with Anca Benera, Arnold Estefan, Catalin Rulea and Alina
Serban by
Daria Ghiu
Cînd atitudinile devin multitudini. Interviu cu Donelle Woolford realizat de
WHEN ATTITUDES BECOME MULTITUDES. An Interview with Donelle Woolford by
Marcel Janco
Perspective în epoca flexibilizarii
PERSPECTIVES IN THE ERA OF FLEXIBILITY
Roland Schöny
La rascrucea dintre arta si activism
AT THE CROSSROADS OF ART AND ACTIVISM
Joanne Richardson
* *
*insert *
Universitatea din Viena/Vienna University
Academia de Arte Frumoase din Viena/Academy of Fine Arts Vienna:
Revendicari / DEMANDS
*+ (campus de lupta. împotriva neoliberalizarii universitatii*
*battle campus: against the neo-liberalization of the university) *
Criza universitatii, criza societatii
CRISIS OF THE UNIVERSITY, CRISIS OF THE SOCIETY
Bogdan Ghiu
Lupte universitare la sfîrsitul pactului educational
UNIVERSITY STRUGGLES AT THE END OF THE EDU-DEAL
George Caffentzis
Renuntarea la scara: universitatile în criza
THROWING AWAY THE LADDER: THE UNIVERSITIES IN THE CRISIS
George Caffentzis
Educatia si îngradirea cunoasterii în universitatea globala
EDUCATION AND THE ENCLOSURE OF KNOWLEDGE IN THE GLOBAL UNIVERSITY
Silvia Federici
Manifeste, apeluri, modalitati si documente de lucru. 2009–2010
MANIFESTOS, APPEALS, WORK MANNERS AND WORK DOCUMENTS 2009–2010
Transformarea cunoasterii în marfa. Procesul Bologna – Strategia Lisabona
THE COMMODIFICATION OF KNOWLEDGE: BOLOGNA PROCESS – LISBON STRATEGY
Réseau Europe – reseau-europe.eu
Document de lucru adresat miscarilor educationale din întreaga lume
DISCUSSION PAPER TO EDUCATION MOVEMENTS WORLDWIDE
www.emancipating-education-for-all.org
Document de lucru pentru Summitul alternativelor
Idei pentru o educatie si o societate diferite
DISCUSSION INPUT PAPER FOR THE ALTERNATIVES SUMMIT:
IDEAS FOR A DIFFERENT EDUCATION AND SOCIETY
http://bolognaburns.org/about/alternative-summit
Ce este Congresul Educatiei Europene?
WHAT IS THE EUROPEAN EDUCATION CONGRESS?
www.educationcongress.eu
Declaratie comuna cu privire la Valul Global de Actiune pentru Educatie
din toamna aceasta
JOINT STATEMENT FOR THE GLOBAL WAVE OF ACTION FOR EDUCATION THIS FALL
www.emancipating-education-for-all.org
Valul Global de Actiune pentru Educatie
GLOBAL WAVE OF ACTION FOR EDUCATION
www.emancipating-education-for-all.org
* *
*verso *
Insurectia ce vine
THE COMING INSURRECTION
Comitetul Invizibil/The Invisible Committee